Today I'm welcoming paranormal romance author Robin Badillo on her Blood Hunter: The Beginning blog tour, hosted by Book Lovin' Bitches Ebook Tours. Read on to find out more about Robin and her sexy vampires in the Blood Hunter series!
Welcome to Romancing the Darkside Robin!
I'm a single mom with four teenagers and possibly on the brink of insanity. Don't make any unexpected moves, it could be dangerous.
I always wanted to be a teacher, but soon discovered I had a low tolerance for other people's children. Love them, but oh so glad to send them go home.
I've been known to listen to hip-hop and have even managed to drop it low, low, low, low…(ahem, back in my wilder days)
I used to smoke, but writing gave me something better to do with my hands since Ian Somerhalder, from The Vampire Diaries, was otherwise engaged.
I have the potential to kill for chocolate, but have suppressed the urge to follow though … so far….I'm just sayin'…..
How are they vampires in Blood Hunter: The Beginning different from the usual cliché of the vampire legend?
The lead vampire in The Beginning, Raven, is female and sort of has a tag-a-long spirit. She just goes with the flow and has a hard time adhering to the rules her coven lives by.
These vampires although predators live by a strict moral code and are careful to not cause harm to the humans who provide their tasty meals. Raven may not always stay put when she's told, but she's respectful of her gift of immortality and her coven's matriarch.
They don't go out in daylight unless they are shielded by storm clouds or darkened skies, but even then they avoid being exposed.
They sleep in beds, not coffins, and preferably not alone.
A stake through the heart would hurt like hell, but unless they're decapitated simultaneously, it would be best not to go around poking one.
They don't bite to feed from humans. Doing so would result in death or turning a victim into a vampire.
Their blood is intoxicating and can heal other vampires and humans.
Biting and drinking blood from other vampires is erotic and usually done during sexual encounters.
In this particular installment, the vampires are the hunted and their human counterparts are the less humane of the two species.
Who is your favorite character in Blood Hunter: The Beginning?
Although I have a soft spot for Thorne, the human hero of this story, I love Raven's best friend, Jacobe. Jacobe is smart, patient and has a commanding presence that we get a little peek of in The Beginning, but really see more deeply in the third installment, The Return, releasing later this summer.
Do you see yourself in any of your characters?
I see parts of myself in some of the characters, but mostly when it comes to sarcasm and stubbornness.
What were the challenges in bringing this book to life?
This trilogy was my first real attempt at writing in third person. My first trilogy, Journey of the Damned, was done entirely from the heroine's point of view. This was also my first time to write from a male perspective. In some places Thorne tends to be a little less alpha and a little gentler, but because of his tragic past, I think his vulnerability is justified. Plus, letting him grow into an alpha in his own time is part of the character development that I hope is conveyed well.
In Blood Hunter, the heroine is a vampire and the hero is human, is this your favorite "forbidden romance" pairing?
Actually, as far as "forbidden romance" pairings go, I'm a bit partial to triangles. Being torn between two lovers adds depth and truly tests ones commitment to their chosen mate. The second installment, of this trilogy, The Betrayal, alludes to the twists and turns that finally come to a point in book three.
How many more books can we expect in this series?
Book 2, The Betrayal is already available from my publisher, eXtasy Books, and other third party retailers.
Book 3, The Return, will be released July 15th, from my publisher, eXtasy Books, then a short time later will be readily available elsewhere.
Are there any new authors that have grasped your interest?
I must say that a few up and coming new authors have definitely caught my eye. Just off the top of my head, Avril Ashton, Mike and Cynthia Arsuaga, Blak Rayne and Drea Becraft are some very talented newcomers I've noticed and enjoyed reading.
What book is currently on your nightstand?
Currently, my intentions are to get through my "need to read" pile, but so far, with the kids, edits and getting submissions ready for a couple of manuscripts I've been tweaking, I've neglected my list.
Catching up on J.R. Ward's, Black Dagger Brotherhood series is somewhere on that list, too.
Can you tell us a little about your current projects?
I am losing it this month with too many projects going on at the same time. I've completed a new damphyr romance, full of vampires, witches, incubi and lots of imps from hell. "Midnight Beckoning" is almost ready for my publisher and should be expected this fall.
I also have a contemporary romance that has no signs of vampires or anything paranormal on my tweaking list, too. "Flesh Wounds", if accepted, it will be my first ever full length "Non-Paranormal" romance published.

Just for fun:
Vampires or werewolves? 
Vampires, but don't count werewolves out of my future. 2012 could bring some new adventures for this paranormal writer. 😉

Morning person or night owl? 
If by morning you mean after 10:00 am, then sure…Otherwise, please consider me a diehard night owl.

If you were stranded on a deserted island, who would you want for company?
The entire cast of Spartacus. Lord, help those poor gladiators…I sincerely hope they survive me.
What's your current guilty pleasure?
Lately, my weakness has been watching the entire series of Dexter. I didn't have Showtime until recently, so I've been catching up as fast as I can on Netflix Live.


What's your favorite vacation spot?
My late husband and I took our kids to Acapulco once and we had a wonderful time. He was born in Mexico, so we were fortunate to experience it from the non-tourist point of view and saved tons of money by avoiding the ritzy resorts and rented a beautifully furnished condo with a private pool and view of the beach for $400 a week. Yes, I am the bargain queen and proud of it!!
Thanks for stopping by and sharing Robin!
I'm the mother of four terrific kids, two boys and two girls, and a rescued pup named Maxie, who has her own Facebook page. Go figure! I live in a small East Texas town, near Houston and I love the small town life. I have dreams to see the world, but would be satisfied just to explore more of the US. I love to watch old romantic movies and musicals with my daughters and then switch it up and watch nitty-gritty action movies and westerns with my son's. Any time with them, laughing and just having fun is my idea of paradise. 
I've always loved reading, but never really had the time to sit down and do a lot of it. In fact, I probably read more now than I ever had before. I generally write full length paranormal vampire romance, but I've tried my hand with a new genre or two. I am enjoying stepping out of my comfort zone and pushing the envelope on the stories I write and hope that my readers are just as thrilled as I am with the chances I take. After all, without them, there is no reason to write. 
As a final note, I also believe that it's true what they say… Grey Hair is God's Graffiti!
For more information on Robin Badillo, visit her here:
Buy the book here:
Amazon
Blood Hunter can also be found at the following sites:
Next stop on tour:
Hosted by: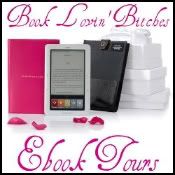 Related Posts