I'd like to welcome author Wynne Channing to Romancing the Darkside! Wynne is on tour promoting her new release What Kills Me, a young adult paranormal romance and is here today to talk about her young but feisty heroine, Axelia. Show Wynne some love and stay tuned for some awesome giveaways!
"Swooning Over a Hot Guy? Nope, Just Faint from Lack of Blood"
By Wynne Channing 
It is my honor to be a guest of Romancing The Darkside! Today, I want to use my time here to celebrate butt-kicking young heroines in young adult paranormal romances — namely, Axelia, the protagonist of What Kills Me.
Axelia, or Zee as everyone calls her, begins her epic journey as a normal 17-year-old girl. She's sweet, sheltered, and desperate for some excitement in her life. Unfortunately, the excitement that she finds equals a world of death — quite literally.
Heroines are sometimes so idealistic. And as the architect of this world, I love crushing their dreams (whoa, that came out sounding super cruel. But I mean it in the nicest way — I'm just trying to tell you a great story).
Zee sneaks out of her home stay in Rome to meet a new boy that she's met. Why the heck would anyone do that? Didn't anyone teach her about "stranger danger"? I have to admit, I've done some pretty stupid things in my life because I thought it would be "cool" or I was seeking adventure (I once got a "massage" from an elephant who just could've stomped me to death).
This new boy turns out to be not-so-nice and in her struggle to escape him, she falls into an ancient well filled with blood. When she finally claws her way out, she discovers that she no longer lives…in the normal sense.
So there were two major things that I wanted to accomplish with my novel. I wanted my heroine to be strong. A brave girl (or one who learns to be) who doesn't need a man/vamp to rescue her. A girl who becomes a fighter.
Second, I wanted every emotion to be realistic — including the love story. Zee meets Lucas after her world is destroyed. Every vampire in the world is out to kill her. It was NOT love at first sight. If she's breathless, it's not because of his dreamy green eyes; it's because she's been running for her life. If she's swooning, it's not because of his chiseled pectorals; it's because she's weak from a newfound bloodlust. I just don't understand how heroines suddenly fall at a hero's feet: "I've just lost everyone I've ever loved and I'm probably going to die any minute now, but wowee, you are mad sexy! Can I touch your biceps?"
Lucas and Zee's relationship begins in chaos and tragedy and it grows organically. Trust takes time to develop. When they fall for each other, I wanted it to be because they knew who the other person was inside and out. I wanted them to choose each other and not have fate magically create a bond out of thin air. I'm excited to see where their relationship goes in the sequel. I'm also excited to see how Zee handles her new challenges: stronger, braver, wiser?
I hope you will be excited too.
An ancient prophecy warns of a girl destined to cause the extinction of the vampire race.
So when 17-year-old Axelia falls into a sacred well filled with blood and emerges a vampire, the immortal empire believes she is this legendary destroyer. Hunted by soldiers and mercenaries, Axelia and her reluctant ally, the vampire bladesmith Lucas, must battle to survive.
How will she convince the empire that she is just an innocent teenager-turned bloodsucker and not a creature of destruction? And if she cannot, can a vampire who is afraid of bugs summon the courage to fight a nation of immortals?
BUY THE BOOK:
Amazon US / Amazon UK / Smashwords / Barnes & Noble / Kobo
*What Kills Me is currently on sale for just $0.99!*
Wynne Channing is an award-winning national newspaper reporter and young adult novelist. She loves telling stories and as a journalist, she has interviewed everyone from Daniel Radcliffe and Hugh Jackman to the president of the Maldives and Duchess Sarah Ferguson.
The closest she has come to interviewing a vampire is sitting down with True Blood's Alexander Skarsgard (he didn't bite). She briefly considered calling her debut novel "Well" so then everyone would say: "Well written by Wynne Channing." 
Wynne is kindly offering a signed bookmark with butterfly charm and e-copy of What Kills Me to one lucky winner. 
Giveaway is open to US and CANADA ONLY.
TOUR WIDE GIVEAWAY: Visit Dark Mind Book Tours for a big International giveaway with some fabulous prizes!
Enter via widget below: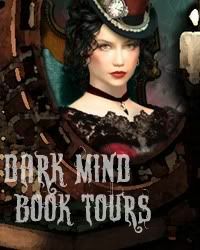 Related Posts