"Strong Story, Weak Heroine…"
Have you ever read a blurb on the back cover of a book or a website and chewed your lip in anticipation? Something like:
When Riley woke up, blood trickling down her nose and hands tied behind her, she hardly expected to look up and be greeted by the most handsome man she'd ever seen.
And when Max turns out to be a vampire assassin, he becomes even hotter. But as Riley quickly discovers, being the target of a man who can run faster, listen harder, and see in the dark will put all of her ninja skills to the test.
As a lover of both vampires and ninjas, this might be a story of interest to me. Alas, my hopes and dreams for this potentially amazing story are destined to be dashed when I read the first chapter and discover, much to my chagrin, that Riley is a whining failure.
Perhaps because I have two young children, I have a low tolerance for whiny, I-can't-do-it types. Or maybe I can delve deeper here. When I read a story, I want to be whisked away into a fantasy world where the heroine is kicking ass and taking names. This is simply because I'm not allowed to in real life.
We're encouraged to put ourselves into the character when we read a story. And let's be frank here: Does anyone really want to be helpless? I don't mean fainting and a muscle bound, square jawed, green eyed, shirtless with a sheen of light sweat gracing his bulging chest type of man catches us.
Who wouldn't want that once in their life?
I mean, tied to a chair with ninja skills, like Riley. But utterly incompetent to use them. I've only read one book in which the heroine started out very strong, very kick ass. She went out and hunted those bad guy vampires and did it without breaking a nail. And then suddenly a bad guy broke into her apartment and she swooned and lost all her prowess.
Wait, what?
When I sat down to pen Delila's tale, I had that book in mind. And I vowed not to make her weak. In fact, Delila wasn't originally going to be a vampire. But about halfway through the story, I scrapped it and started over, bringing her in as the lead voice and vampire and telling the story of a small section of her life.
And I'd certainly not want to piss her off, that's for sure.
Thanks for hosting me today, and happy reading!
About the author:
Lindsay Klug is an author of paranormal romance, contemporary romance and horror. She lives with her husband, two children and pets. When she's not chasing her kids around, she's working as a pharmacy technician, dreaming up her next tattoo or writing about any and everything that strikes her fancy!
For more information on Lindsay Klug, visit her here:
Next stop on the tour is:
Workaday Reads
(June 2nd)
Hosted by: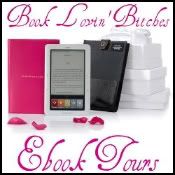 Related Posts