Paranormal Romance author Tish Thawer is also an awesome friend who I couldn't exclude from the blogoversary celebration! Usually I'm the one asking the questions when it comes to interviews, but Tish decided to shake things up and interview me on the subject of blogging this time around.
There are also two fabulous giveaways from more fantastic authors to enter so pull up a seat 😉
I can't tell you how thrilled I was when Lori said I could switch the author/blogger tables, giving me the chance to interview her for her Two Year Blogoversary! To say I was honored was an understatement. I can happily share that I've known Lori for over two years from our interaction on Shelfari; she, as one of the awesome admins of my favorite private group, VWF, and I, as a Shelfari Librarian. So, when my first book, Scent of a White Rose was published, it didn't take more than a second for me to think of Lori as one of the initial people I wanted to read and review my work. And not just because she was my friend, but because if you haven't noticed, she has 1000+ GFC followers, which is only a small indication of just how successful Romancing the Dark Side is. So who is Lori? Read on and let's find out…
TT: Can you tell us a little bit about yourself?
Lori: I'm currently a single, city girl, who works a 9 to 5 job in the construction industry and loves to unwind with a nice glass of wine, or two. I'm a compulsive book buyer who's always looking for a new book boyfriend. My TV obsessions include Supernatural, The Walking Dead, The Following and Mad Men. I'm still looking for my Prince Charming but for now I have plenty of sexy Alpha men in my books to keep me company! 😉
TT: Was there a certain book or event that prompted you to start blogging?
Lori: I started writing short reviews on Shelfari and Goodreads prior to blogging, I think the feedback I received from those reviews prompted me to start my own blog. The book that moved me enough to want to share my thoughts in a full length review was Shadowfever by Karen Marie Moning, it's my first published review on Romancing the Dark Side…so I can actually say I popped my blogging cherry with Barrons! LOL
TT: Do you have a set amount of time per day that you spend blogging? And if so, how do you spend the remainder of your day?
Lori: I envy bloggers who plan their posts weeks or months ahead of time. I consider myself a pretty organized blogger but don't have a set schedule for blogging…I've become quite the procrastinator lately and usually spent a couple of hours a day blogging, usually in the evenings when I get home from work. 
TT: When it comes to reviews, what are the key points you always try to touch on? 
Lori: My reviews usually consist of a short summary of the plot, my take on the main characters, the world building (when I'm reading UF or PNR) and my likes or dislikes of the author's writing style. I try my best to write a spoiler free review but have slipped a time or two! My goal is to share my thoughts with readers, without giving too much away but just enough to make you say hmmm…I think I'll take a chance on this book. 😉 
TT: How do you feel about negative reviews?
Lori: This is a question that comes up a lot in the book blogging world. I'm not against negative reviews but am not a fan of author bashing. I understand that every book is not a 5 star read and not everyone is going to love the same book. Sharing your thoughts is your prerogative as a reviewer, but I think your opinion can be expressed without degrading an author and their work. I try to find at least one positive when a book isn't my cup of tea and if it's a DNF (did not finish) I'll just simply state why I didn't connect with the book. There's no need to get so personal when writing a review, it's about the writing not the author's persona.
TT: What advice would you give to those who are debating starting their own blog?
Lori: I'd say go for it! I contemplated starting my own blog for a while, thinking "there are already a ton of blogs out there why would anyone read mine?" but once I got started I was mad at myself for not doing it sooner. Blogging is about sharing your thoughts and having fun, it should never feel like a job or competition. Just be yourself and find your own style…it might take a while but you'll find it.
TT: Is there anything, or a specific feature about your blog, that you would have liked to done differently from the beginning?
Lori: I try to live and blog with no regrets…LOL I've learned a lot these past two years and think I've mastered my blogging style. I don't think I would have done anything differently but would like to incorporate more more discussion posts on the blog, I love the interaction between fellow bloggers and readers that happens when you throw a question or topic out there!
TT: And now to the good stuff…Coffee or tea? Vampire or Werewolf? Chris or Liam Hemsworth?
Lori: Hmm…let's see: Coffee in the morning (a girl needs her caffeine to function!) and tea at night.
Team Vampire (with a newfound love of weres)
Definitely Chris Hemsworth, he's older, hotter and…umm hello he's Thor!
Thanks so much for stopping by Tish, this was a lot of fun! xoxo
Tish Thawer writes paranormal romance for all ages, including her NA (New Adult) series, The Rose 
Trilogy, and her adult PNR, The Ovialell Series.
Before becoming a writer she worked as a computer consultant, a photographer and a graphic designer. She also operates a custom glass etching business, in addition to being a wife and mother of three wonderful children.
She's been a fan of the paranormal for as long as she can remember. Anything to do with superpowers, myth and magic has always held a special place in her heart. From her first paranormal cartoon, Isis, to the phenomenon that is Twilight, this genre has always been a part of her life.
Giveaway sponsored by authors
(5) Bellum Sisters Book Bundles by T.A. Grey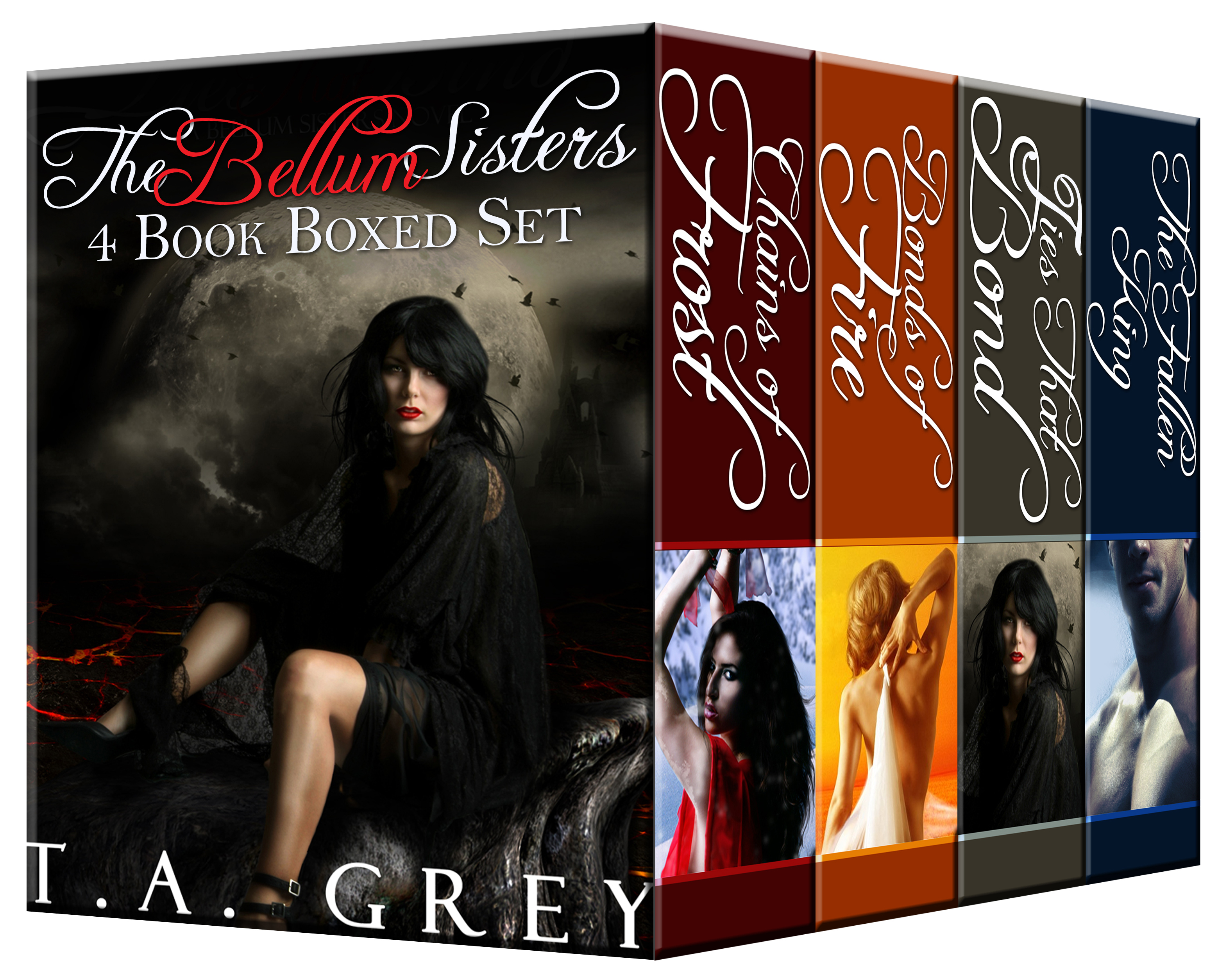 Enter via widget below
An ecopy of I Kissed a Dog and Soul Defenders by Carol Van Atta
Enter via widget below
Related Posts